Bungalows




The Master Suite is a really large and very comfortable
apartment in Arrieta,
located just off the coast of the small village. One of the apartment┤s most important parts is the large, private patio, with a small swimming - pool (unheated), for exclusive use. From the same patio you also can access the (of course heated) Jacuzzi.

Inside this apartment there is a beautiful large kitchen located, whose main window allows the fantastic view towards the sea in front of Arrieta. In the kitchen there is also a big dining table where guests are invited to dwell.

The living room is very cozy and elegant, but has just approx. the same size as the other apartments in the complex.

Altogether there are four bedrooms inside the apartment, all of them equipped with a double bed. Two bedrooms are oriented toward the sea, while the other two are faced towards the courtyard (patio) with its swimming - pool. Bedlinen and towels are provided and are changed weekly, this from a twelve days┤ stay on.

The sea-facing side of the apartment opens via a large and covered terrace with fantastic views of the Atlantic. There is just the small footpath leading to Arrieta which is separating the apartment from the Atlantic.






Casitas Master Suite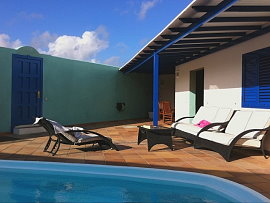 Capacity:
4 Bedrooms, up to 8 persons

Price:
Per night for 2 persons: 95 €
any additional person 10 € per night
End of stay - cleaning one daily rent

Summer special from 01.05. till 10.07.:
7 days renting for the price of 6 !
14 days renting for the price of 10 !
21 days renting for the price of 15 !

Self - catering !

Inquiry / booking