Bungalows




The small complex Caleta Campos consists of only twelve very beautiful
bungalows in Arrieta
situated directly at Atlantic's coast. It has also a fantastic large swimming - pool. The complex is located just a stone's throw away from the bungalows Casitas del Mar.

These bungalows are all very generously designed and constructed. There is direct sea view as well as from the bungalows as from the swimming - pool. Only the small coastal road with very few traffic separates the resort from the Ocean - it is really an idyllic and pleasant place here.

All bungalows have a large living room with sitting area and dining table, the kitchen is also integrated in the living room in an open way. Furthermore the Bungalows Caleta Campos have each one two bedrooms as well as a bathroom. In the back area of each unit there is also a small patio (courtyard) available.

The also very spacious pool area with its large swimming pool and the small children's pool is located in the center of the complex. There are also sun loungers to enjoy a sunbath with sea view right in front of the own private terrace.

The complex is very well maintained and serviced and there are also contact persons at the place. Wireless Internet is available and included in the price.






Caleta Campos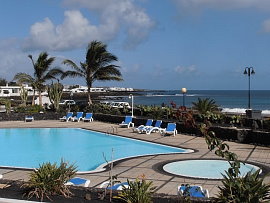 Capacity:
2 Bedrooms, up to 4 persons

Price per night and bungalow by season:
28.03.2017 - 14.07.2017: 60 €
15.07.2017 - 31.07.2017: 70 €
01.08.2017 - 31.08.2017: 80 €
01.09.2017 - 19.12.2017: 60 €
22.12.2017 - 14.01.2018: 70 €
15.01.2018 - 31.01.2018: 60 €
01.02.2018 - 23.03.2018: 70 €
24.03.2018 - 01.04.2018: 80 €
02.04.2018 - 30.04.2018: 70 €
01.05.2018 - 30.06.2018: 60 €
01.07.2018 - 13.07.2018: 70 €
14.07.2018 - 31.08.2018: 80 €
01.09.2018 - 30.11.2018: 70 €
01.12.2018 - 19.12.2018: 60 €
20.12.2018 - 06.01.2019: 80 €
End-of-stay cleaning incl.

Self - catering !

Inquiry / booking