Bungalows




Casitas del Mar III is also located directly at the coastline. It is an elegantly furnished, bright
Arrieta holiday villa.
Inside the living room there is a cozy and big sofa, from where one can enjoy the magnificent views of the Atlantic. In the living room there is also a large and stylish dining table where easily four persons can be seated.

The modern kitchen is decorated in bright colors and integrated in the living room in an open way. From here, as well as from the dining table located directly next to, you will have an excellent view of the Atlantic.

In the rear part of this villa, consequently averted from the Ocean, there are two bedrooms. One of them contains a double bed, whereas the other has two single beds. Towels and sheets are available in this holiday villa and will be changed weekly, this after a stay of twelve days or more.

Facing seawards in front of the villa there is a small and covered terrace, almost very close to the water, only a small footpath coming from Arrieta separates the villa from the Atlantic.






Casitas del Mar III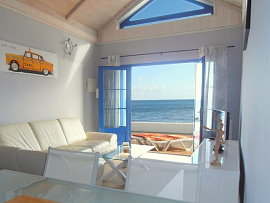 Capacity:
2 Bedrooms, up to 4 persons

Price:
Per night for 2 persons: 75 €
any additional person 10 € per night
End of stay - cleaning one daily rent

Summer special from 01.05. till 10.07.:
7 days renting for the price of 6 !
14 days renting for the price of 10 !
21 days renting for the price of 15 !

Self - catering !

Inquiry / booking